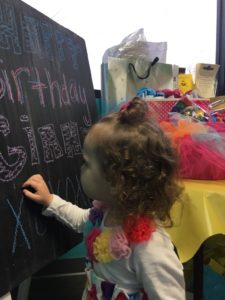 Birthdays are always a party at K Peas Place! Birthday parties are led by a talented team with plenty of experience. Our birthday party team members are educators and entertainers; masters at bringing out the fun and creating an atmosphere of joy and celebration. Our birthday parties are mess free and stress free. The kids will have a blast and the adults will be able to relax.
We have a clean facility and a friendly staff  dedicated to making this a great experience. Our birthday parties are private, and intimate, so no-one gets lost in the shuffle. Older guests are always welcome. Families are welcome to bring outside food for enjoyment in our eating area. Each party is created and personalized to highlight the guest of honor!  We are a shoe free zone, please remind your guests to bring socks to wear!
Book your party today!
Ages 1 to 6.
Up to 16 children (inquire about more).
2 hours private use of Play Rooms
Group activities with parachute play (optional)
Solid color table cloths (2)
T-shirt for Birthday Child