Birthday Parties At K Peas Are Beautiful, Fun, And Affordable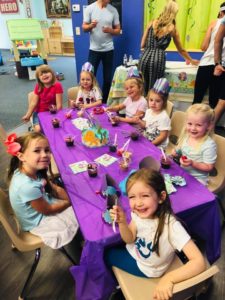 We believe everyday is a gift – a day to celebrate!  Private Birthday Parties are extra special days where families and friends gather in our all inclusive intimate playground to gather and celebrate their greatest gifts ~ their children!
When you book your child's birthday party, there is no setup and no cleanup. We do it all! You just show up, relax and have fun. Make memories with your children without the stress.
No two parties are alike. We work with you to create a fun and festive birthday party tailored to you.  Imagine the perfect party, talk to us, and we make it a reality. We offer many party packages to meet your specific needs.  Let's connect, create and celebrate!
Take a look at the pictures below of our birthday parties or check out our Facebook page for even more photos and information.
Complete our registration to check availability!
https://form.jotform.com/201405579886062
Reservations for private events are available during the following hours:
Weekdays: 4:00 PM – 7:00 PM  $250/ 2 hour party
Weekends:  9:30 AM – 7:00 PM  $300/ 2 hour party
I started taking my 1 and 2 year old here for open play and they LOVE it. My son recently celebrated his birthday and we had the party at K Peas Place. Mrs. Karen was amazing to work with. Every step of the process was easy and stress free. She set up our decorations and went above and beyond to set out extra train toys. We were able to bring drinks and food and the kids AND adults had a wonderful time.

Such a blessing to have a place so close to home that is safe where the kids can play and the adults can enjoy a conversation. I always describe K Peas Place as a large living room…comfortable and a great place to gather! I HIGHLY recommend K Peas Place for Open Play, Organized events, and Birthday parties!!!
Party Host/ sets up &  cleans up!
Up to 16 children (total head count max. 50)
Background Music (sound system provided w/ select birthday music or you may link in)
Provided: Ample Tables/ Seating: cake, buffet, gift, adults and children
Structured Group activities w/ parachute play (optional)
Entertainment/ Structured Enrichment add-ons available, inquire within.
We can come to your location (inside/ outside)
Character party rental for photos and/or music entertainment here or there or anywhere!
Virtual Zoom Music & Character Parties too!
Details:
We have a clean facility and a friendly team dedicated to making your event a great experience. Our birthday parties are private, and intimate. Older guests are always welcome. Families are welcome to bring outside simple food (no heating required) and non alcoholic beverages for enjoyment in our eating area.
Each party is created and personalized to highlight the guest of honor!   We require closed container drinks such as water bottles, cans, juice boxes (cups must have lids) to keep our space beautiful and clean for you!  We are a shoe free zone, please remind your guests to bring socks to wear, ADULTS too! (You may want to bring extra socks for your adult guests- otherwise, we sell socks $2 pair, sock sales benefit Paul's Project under the 1 Voice Foundation)