Classes at K Peas Place

Registration required. Select Dates.

https://form.jotform.com/201462962757159
MUSIC CLASSES & play sessions
Mondays 9:30 Music Class (0-5yr)
(10:10-10:45- open pay after class)
Wednesdays 12:30 Music Class (0-5yr)
(1:00-2:00 open play after class)
Thursdays 3:30 Music & Fitness Combo (3-7yr)
(4:00-5:00 open play)
PLAY & LEARN Alphabet FUN!
(10:00-11:00 Open Play, Art, 11:00-11:30 Circle time)
We look forward to seeing your smiling faces and hearing your laughter!
ONLINE CLASSES
Tuesdays & Fridays 10:00 Music Class (0-5yr)
Register to join the FUN!
https://form.jotform.com/200732730002134
Benefits of our online community!
After nearly four full months online we are excited to share the beauty of our online garden;)
where we simply plant "seeds" for each family to water them and enjoy the developmental growth of their children a while sharing in dedicated time together!
Who?
Everyone!
✅connecting cousins around the world! Welcome Colombia, Taiwan, CA, GA, VA, IL & PA 
✅connecting grandparents around the world to "play" with their families! Ask about inviting them to join!
✅connecting children w/ medical fragile conditions
✅celebrating birthdays
✅inspiring one another
✅back to the basics
✅fun for all ages
✅family focused
✅appreciating
The magic happens when children have the opportunity to explore with their peers in a safe setting.
–Karen
At K Peas Place, we offer a semi-structured approach to challenge and stimulate your sweet peas incorporating developmentally appropriate activities. Structured class activities are age appropriate, creative, interactive, action based, and energetic. Structured class is a blast for caregivers and kids. Connect with your sweet peas with our fun and stimulating activities. Perfect for Mom's groups and individual caregivers alike.
An indoor playground is a wonderful place to spend time with your child. It is a safe and comfortable environment where you and your child can play without distraction. It is memorable, rewarding quality time spent together.
Developmentally Appropriate Activities
Storytelling
Creative Thinking
Music and Puppetry
Sensory Exploration
Arts and Crafts
Simple Games
Sign Language
Play is critical for childhood development. PLAY is not just fun for children, it is children's work. It is essential for developing social skills and feelings of happiness, love, and safety. During play, children learn to communicate and care for others, and physical skills as well.
During structured age specific classes, play is guided to achieve specific goals. It's fun, but fun with a purpose. The structured class activities at K Peas Place touch on the major aspects of childhood growth. They improve your child's physical abilities and social skills, as well as improving cognitive skills and sense of well being (joy). Structured class is fun for both caregivers and kids.
Benefits At A Glance
Fun for kids and caregivers
Develop cognitive and physical skills
Increase sense of well being
Structured classes is all about having fun while teaching your child. Structured classes, along with open play, give your babies, toddlers and preschoolers the foundations for living a fulfilling and joyful life. The social skills, sense of adventure and learning they receive at this stage in their lives set the foundations for the future. For parents, this a relaxing and joyful time to bond with their children without distractions. Play classes include weekly lessons for child -led learning and growing in a gentle enriching atmosphere.
Welcome! It's the perfect class to introduce group setting dedicated time for like ages to connect, play, and celebrate time together!  Pack a snack/lunch to enjoy with your peers!  Eating together is  a beautiful opportunity to learn more about your new friends, practice manners and social skills.  Conversation and ideas are often shared around the table.
JOIN US ONLINE: Eastern Time
(schedule is subject to change weekly)
Music & Fitness Classes ages 0-7yrs.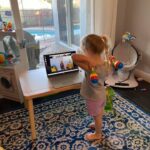 We are thankful to continue to connect and share JOY virtually!
Email Miss Karen to sign up for her classes!
Text directly to Miss Karen: 727-251-1180.
Contact us to be added as an enrichment class at your preschool or venue!
Online classes are arranged for private groups and preschool classes!
We love making new friends ~ connecting our communities!