Weekend Music Class & Open Play for babies, toddlers, and preschoolers Tampa Bay
Weekend Music Class for babies, toddlers, and preschoolers in Westchase
Come enjoy time together bonding, singing, and giggling learning through our amazing Music and Movement Classes! 
Date:
Saturday~ October 8th, 2022
Time:
10:30- 11:15 Music Class
11:15-12:30 Open Play & Art
October is Fire Safety Awareness Month!
We will learn all about our community helpers through Music, Movement, Play and Art!
Optional dress up as a firefighter for music class and /or open play this Saturday.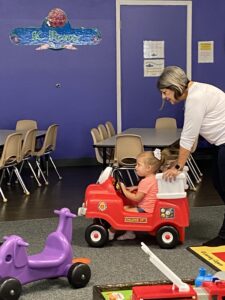 $25 per family for music class or $40 for both music & open play & art.
$25 for open play & art only.
Discount packages and unlimited honored pay only $10 for our add on classes and play sessions!
Welcome! Invite a buddy!
Remember your socks (adults), smiles and snacks to be enjoyed in our eating area!
Pack a snack and enjoy time with your families!
Older siblings are always welcome!  They'll enjoy singing along and playing with their siblings.
Big kids also enjoy our art area, where they can create masterpieces of their very own!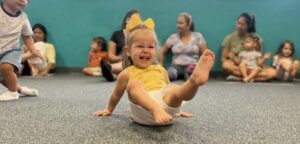 Enjoy open play with your sweet peas!
Relax, grab a coffee, and catch up with your friends!
It's always great to see Moms, Dads, Grandparents, Aunts, Uncles, & cousins all together connecting- playing- celebrating time together! In addition to siblings playing together a bit extra on the weekends! We're so glad you appreciate our add- on events, as time permits!
Please, mark your calendars and invite a new friends!
Leave us your hand print!
Welcome~ remember your socks! Grown up- (kids optional)
Weekly Classes:
Miss Karen's FULL weekly schedule Schedule:
Additional classes are added monthly as "pop up" classes.  Send us an email to stay connected: kpeasplace@gmail.com
*Available for Mom's Club/Play Groups, Birthday Parties, and Special Events
Welcome!  We know you're gonna LOVE it HERE!
K Peas Place is an indoor play center and birthday party center where children ages 6 and under can explore, imagine, climb, slide, create and so much more. (older siblings are welcome)
K Peas Place is the perfect place to enjoy time together with no registration fees and affordable family rates.
We offer:
Private Birthday Parties Saturday/ Sundays…
Private Events/ Special Groups
Unstructured open play
Structured play enrichment classes
Simply FUN for you and your Sweet Peas!
It is our mission to connect, play, and celebrate early childhood with you and your sweet peas!
Questions?
send us an email:
Weekend Music Class & Open Play for babies, toddlers, and preschoolers Tampa Bay