Holiday Art and Pajama Party
Monthly Special Events are extra opportunities that offer time with the whole family!
Thank you Miss Kate Murphy for approaching us with the idea to highlight her Art to Go creations for our holiday pajama party this year!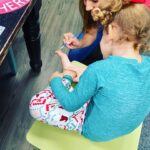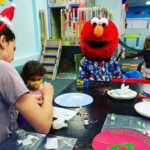 We love supporting our K Peas' community by including their talents in our special events!
Miss Kate Highlights:
"We had such a wonderful experience as Art to Go Kids was invited to join a holiday pajama party at K Peas Place! Children and their families were able to complete their choice of Art to Go Kids holiday art projects while also enjoying pizza, treats, and play time at K Peas Place. Elmo even made an appearance and joined in the holiday fun! Children were able to paint their projects and then play while their art dried.
K Peas Place is such a wonderful environment for families to spend time not only together, but with other families as well.
Everyone had such a great time mingling and making art and memories together. By the end of the night, everyone was well fed, tired from playing, and walked out the door with a special piece of art.
As the owner of Art to Go Kids, and a parent myself, I feel so fortunate to be a member of the K Peas community. It truly is a community of like-minded families that all come together to support each other and enjoy their children. I look forward to our next opportunity to host an event with K Peas Place.
Miss Kate loved her time creating memories with us and will be back in 2022!
As we enter a new year, our 5th anniversary year, we are exploring new ideas to include Miss Kate.  Since opening in January 2017 our first founding sweet peas have grown and will benefit from add on school-aged activities here at K Peas Place. If you are interested in joining us please, complete this form to be added to our school-agers programs in 2022. https://form.jotform.com/213373860465156
We welcome new families looking for fun enriching activities to do with their children daily!  We offer pay as you go visits, discount return packages and monthly unlimited offers.  No registration fees or commitments!
Let's CONNECT~ PLAY~ CELEBRATE~ CREATE together!
Holiday Art and Pajama Party