K is for Kids and Kindness  | Preschool Learning
The letter Kk!  
Let's CONNECT~ PLAY~ CELEBRATE
On April 16 2020 we asked families to write a story using as many K words they could think of and to apply the story to their lives to create a KEEPSAKE for their family to pass on year after year! In addition, we asked families to share an act of KINDNESS!
Thank you for sending us your "stories" your KEEPSAKES!
Enjoy this story by one of our beloved K Peas Families!
K Peas Place 
Written by C.L.  of Lutz, Fl
There was a young woman named Karen. Her heart was full of Kindness and light. She loved to dance and sing with all the Kiddos and sometime she would fly a Kite. They'd act like Kitties or Koalas or even bounce like crazy Kangaroos. They'd jump all day and sing and play or throw Kisses with delight. They were Keen on having fun and Karen didn't want it to end. Then her and her husband named Mat went to their Kitchen and sat. Now sometimes they grew tired so they turned on their Kettle and brewed some tea. And finally after a lot of conversation they were ready to open a place called K Peas! Kudos to them because this place was the bees knees! It had a Kitchen, a slide, and artwork galore; plenty of space for Kiddos to explore. All the families were happy they could Kick back and relax and Karen knows them all by name. We can't wait for K Peas to re-open things just haven't been the same.
Click to read about a Cat called Kitty: K is for Kitten | Preschool Learning
KINDNESS
We share this message from another beloved K Peas Family.
Written by J. N. of Oldsmar, Fl.
"We celebrated the letter K with sending kindness to our essential workers and thanking them for their efforts.
Last night, I rocked "T" listening to Kokomo (one of our family's favorites) after she fell asleep.
️
Thank you for always striving for families to make special memories."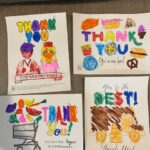 The link for the coloring pages:
They are listed as quarantine coloring sheets.
 Toddler/ Preschool Learn & Chat Class
 ~Letter Kk~
Written by K.G. of Dunedin, Fl
Are you KIDDING me?  Are you feeling KOOKY? We are still in isolation, in fact, it's week 5 & 6!
Our KIDDOS realize that something is different!  They recognize all KINDS of things have changed!  They notice we are in the KITCHEN more and we've dusted off our KETTLES! (or maybe not-who has a KETTLE these days?) ………………………………………….
Do you agree that it's KINDA nice to slow down and see the hidden blessings our extra time at home with our families?! Our KIDS love that fact that we KISS them extra, and share our KNOWLEDGE through the extra time we are spending with them at home.
During this time of our lives we've hung up our KEYS as we are driving less!  Each day we look for activities to do with our families such as KICKBALL or flying KITES in open fields!
We're learning that KANGAROOS have babies called joeys and the native bird for New Zealand is a KIWI!  We also know that KIWI is a fruit!………  We also KNOW that KOALAS are gentle animals in Australia that had their own crisis due to wild fires in 2019.  …………………………………………..
Now that everyone is homeschooling, parents may begin to recognize their children are KINESTHETIC learners! This style of learning includes tactile learning involving students carrying out physical activities (movement), rather than listening to a lecture or watching demonstrations.
……….And now we are all teachers!!  We got this!!!  Why? Because as parents we are seen as KINGS and queens to our children!  We stand tall and make everything seem OK!
Join us Wednesdays 10:00, you inspire us!!
send an email to: Kpeasplace@gmail.com to sign up.
K is for Kids and Kindness  | Preschool Learning