Refueling Your Child's Love Tank
DATE:  February 7th, 2020
TIME:   9:15-10:30
LOCATION:
COST:  $10 (per family)  OR FREE- enter code:  VIPFRIENDS
Our cars don't run on empty and neither do our kids! Whether your child is a preschooler, adolescent or teenager, they all have one thing in common. They need YOUR love and approval more than anyone else's. Let us share some surprising and key ways you can help them refuel! Make this year the year for building intentional and stronger relationships with your child.
We are delighted to host "Refueling Your Child's Love Tank" presented by Dr. Kira Wilson Administrator of Covenant Academy in conjunction with the fun and educational "Music with Mar with Miss Karen" class for our smallest attendees! This is a very popular program in our community that your kids will LOVE!
We are collecting DONATIONS OF ONLY $10 (per FAMILY) for entry and each ticket includes a "Music With Mar Class with Miss Karen" for all attending children! This will take place in our children's area adjacent to where parents will be seated for our educational morning event!
(ALL PROCEEDS WILL GO TO HELP CHILDREN IN CRISIS IN OUR COMMUNITY THROUGH DOOR OF HOPE.)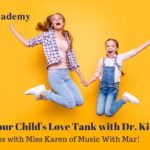 ABOUT MUSIC WITH MAR WITH MISS KAREN: https://www.facebook.com/musicwithmarclasseswithmisskaren/
ABOUT DR. KIRA WILSON:
Dr. Wilson is a seasoned educator, parent, grandparent and holds a doctorate focused on family centered learning. Her passion is to equip families to joyfully come together to grow, play, learn and seek the Lord. She is a MOPS (Mother of Preschoolers) network presenter and frequently speaks to parents of children from early childhood through teens.
https://www.lifeandlearning.net/dr-kira-wilson/
REGISTER TODAY! Seats are LIMITED due to our extra special Music with Mar with Miss Karen programing. Please comment with the names and ages of your children you'll be bringing. 🙂 MUSIC CLASS DROP-OFF BEGINS AT 9:15AM. PLEASE ARRIVE IN TIME! 🙂
ALL PROCEEDS WILL BENEFIT: A DOOR OF HOPE
(A Christian Ministry Providing Hope for Children In Foster Care in our Community.)
https://www.facebook.com/ADoorOFHopeTB/?ref=br_rs
https://adoorofhope.com/
Refueling Your Child's Love Tank