Baby & Toddler Play Class Westchase
Baby & Toddler Play Class Westchase
Date: Thursday Oct. 17th, 2019
Baby/ Toddler Play Class
 Time: 9:00-10:00
$20 per family or use your class cards! includes open play.
OPEN PLAY: Time: 9:30-1:30 (weekly regular schedule)
$15 per family or use your packages/ unlimited.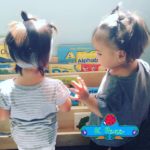 Baby/Toddler Play class offers a semi-structured learning atmosphere for families to engage at their leisure.
Our regular/ weekly Wednesday 10:00-11:00 Baby/ Toddler Class is growing therefore, we offer an extra class once a month for our growing community!
It's the perfect opportunity for our littlest sweet peas. ages 0-2 yrs. Each child learns at their own pace. All abilities welcome.
If your child has an "adjusted age" please, let us know as we are here to learn and grow with you all while CONNECTing, PLAYing, and CELEBRATing time together!
We offer a relaxed atmosphere to introduce circle time and sharing opportunities within our facilitated learning activities!
Families are welcome to stay after for open play included in your class price:
$20 per family – pay as you go one time.
10/$160 (10  class package includes same day play before or after class.)
http://kpeasplace.com/structured-play-for-kids/
Open Play ONLY (no class)
$15 per family or 6/$75.
Families may stay as long as they'd like during the scheduled time: 9:30-1:00.
Welcome!
Remember your socks and as always older siblings are welcome!
Snacks/ lunch may be enjoyed in our eating area.
If you are new and recently moved to Tampa Bay and looking for a relaxed atmosphere to connect with other families and socialize your little ones join us for our semi- structured play classes.
They truly provide a genuine time to celebrate early childhood together!
Send us an  email:
Additional Details: Structured Play For Kids
Each class provides table time fun activities encouraging sensory exploration with various are supplies!
Along with the open play of endless fun sensory play provides extra social interaction, cognitive growth, fine and gross motor skills, and language development including sign language!
*Open Play times are a great opportunity to schedule meet ups and connect with friends, invite a friend from your child's school and get to know their parents in our relaxed playful atmosphere!
Weekends are added as time permits around our private parties.  DATES – TBA.
As always bring your lunch to enjoy in our eating area and remember adults are required to wear socks!
If you forget, we sell socks for $2 a pair. Thank you!
We look forward to seeing our weekly friends and making new friends too!
We welcome older siblings, no extra charge.
It is our mission to connect, play and celebrate early childhood together!  Welcome!
Looking for a Birthday Party Venue for your next celebration?
K Peas Place offers two hours (or more) private use for your enjoyment:
Click link for more details: Birthday Parties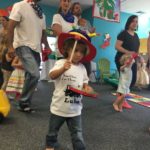 WEEKLY Enrichment Schedule: Schedule
During the week we connect with amazing Moms, Dads, Nannies, Aunt, Uncles!
We look forward to you joining our community too!
Baby & Toddler Play Class Westchase