The magic happens when children have the opportunity to explore with their peers in a safe setting.
–Karen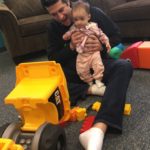 Open play (unstructured)  is a wonderful experience for parents and toddlers. It is a time for spontaneous fun and play. Moms meet other moms. Kids make friends and play together. Open play is relaxed and fun. Your sweet pea will love it! You are welcome to bring in food during open play. Open play is a great way to get introduced to K Peas Place. Walk-ins are welcome.
Relaxed fun
Spontaneous fun
Make friends
Set up play dates
Have fun, fun, fun!
Play is critical for childhood development. PLAY is not just fun for children, it is children's work. It is essential for developing social skills and feelings of happiness, love, and safety. During play, children learn to communicate and care for others, as well as the physical skills to interact with their environment.
During open play, play just happens. It lets your child use their imagination. Caregivers can be a part of open play, pointing your child in the right direction, playing a role in a game, or sharing an arts and crafts project together. It is a time for spontaneous creativity and growth.
Benefits At A Glance
Parents fully engage with their kids
Children develop social skills
Children build confidence
Children build physical skills
Times: Daily-see schedule. Schedule
Cost: $15 per family pay as you go; 6 visits $75 (to be used in one year) (dated once per family, not per child)  SUMMER SPECIAL: 6 visits $55 use during JUNE & JULY.
(pricing and times are subject to change- specials are offered throughout the year; monthly unlimited is available- inquire within)
An indoor playground is a wonderful place to spend time with your child. It is a safe and comfortable environment where you and your child can play without distraction. The time you spend with your child in open play is relaxing,  memorable, and rewarding time spent together.