Letter M is for Mother's Day | Preschool Activities
Letter M is for Learning | Preschool Activities
 Toddler/ Preschool Learn & Chat Class
~Letter Mm~
On MOTHER'S Day we asked our families to share their "Title"  How do your children call for you?
Ma?

Mama?

Mom?
Mommy?
Madre?
MAMA has been the MOST popular response!
As we've completed two MONTHS online since MARCH 13th through MAY we love that MOTHER'S Day kicked off our start of letter Mm lessons as we continue MAKING MAGIC online!
It's MARVELOUS that MANY families join us 1 -3 times a week online to MAINTAIN a sense of normalcy!  We look forward to seeing you and your MUNCHKINS to MOVE like MONKEYS as we learn MATH concepts through the MUSIC with MAR. program!  MARYANN Harman, has produced over 500 songs since 1993!  Through all the Covid MADNESS, we've MANAGED our MOOD through MOVING our MUSCLES and MAKING MEMORIES.  One newest class includes learning the MERENGUE as we highlight healthy food choices in our activities such as MUFFINS are a grain and MILK is dairy!
Have you created keepsakes with MANY MEDIUMS such as MARKERS or MUD?
During the Letter L is for Learning | Preschool Activities we suggested gathering leaves on your nature walk and share your experiences with us!
Thank you Will, for your lovely creation you presented for your MAMA expressing your love through MUD, flowers, and sticks.
Your MOMMY said you loved freezing them in water and enjoyed the extra science sensory sensations of your MELTED MESSY treasure!!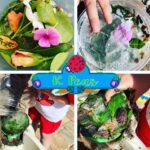 We'd love to hear from you and read a "story" including as many M words you can think of.  Play along and allow your brain power to guide you into writing or illustrating a story for your family to enjoy as we did for K is for Kids and Kindness  | Preschool Learning
Lastly, we celebrate MOMS everyday and listen carefully as you MENTION the challenges of learning technology, working from home in isolation you face during this pandemic.
We are here for you!
Please, note as we MAKE adjustments ahead to reopen we understand the recommendation to wear MASKS for ages 3 and up. We will do our best to MASTER the new norm and rise up for the challenge!
We MUST say we MISS seeing you in person and look forward to our time together again soon!
MOVING Forward:
We are now booking private events including birthday parties and play sessions.
Thank you for your continued support and inspiration to CONNECT~PLAY~ CELEBRATE each and every day with our sweet peas no MATTER what you MAY be going through!
Letter M is for Mother's Day | Preschool Activities