K is for Kitten  | Preschool Learning
The letter Kk! 
Let's CONNECT~ PLAY~ CELEBRATE
On April 16th, 2020 we asked families to write a story using as many K words they could think of and to apply the story to their lives to create a KEEPSAKE for their family to pass on year after year!
Click to learn more: Letter Kk  
Why?  What?  How?
Friendships form during conversations when we share bits and pieces of our lives! During this COVID-19 pandemic, we are spending more time with our families and it's the "purrrrrfect" time to share and preserve a story that is special to you!  It can be personal and only for you to read or an opportunity to call a friend and ask them to exchange a story with you!
In addition, you may want to illustrate your book with real pictures that you may have in a box from years ago.  If you don't have any pictures you may want ask a family member if they have one to share with you!  This offers and opportunity to reconnect and reminisce.  Another idea and a opportunity to ignite imagination and creativity is to ask your children or friend to draw a picture after reading your story to see how they see it!  Illustrating will also exercise fine motors skills and sensory exploration as many materials may be used or ideas may be born as you adapt this activity using your own supplies and ideas!
Guidelines:
This letter K interactive activity is simple with no real rules except the challenge to not look up any words, only rely on your brain power and conversation with others!
It is an activity that has no time frame, no deadlines, and maybe not even an end product, but it will have conversation including laughter or tears, cognitive enhancement, and language development. Stories will bond you with those you interact with and leave a memory for your children to share with you forever!  Once you share a story with your child, they may ask over and over to hear your story!  This is connection! This is love!  Be playful and celebrate these moments!  They are everlasting!
Enjoy!
A Cat Called Kitty
Written by T. O. of Dunedin Florida!
We had a cat called KITTY. She was grumpy yet as cuddly as could be. She was one to KEEP careful watch for lizards. She would KIDNAP little people from our miniature Christmas village every year. KITTY was never KEEN towards KIDS.
Once, we tried to dress her in something like a KIMONO. KITTY did not take KINDLY towards this and made clear that we should KNOCK it off.
However, KITTY did allow KISSES on occasion. So, she must have seen us as KINDREDS.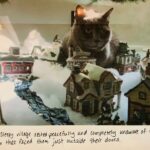 Do you want to utilize modern technology rather than "old school" techniques?
There are many digital opportunities such as https://www.shutterfly.com/ that create books and KEEPSAKES! We love these too!
Lastly, KINDLY send an email to: kpeasplace@gmail.com to share your stories  &  drawings or to learn how to join our online classes.
This Kitty has a great message! We KNOW this pandemic is not easy!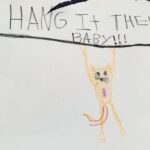 K is for Kitten | Preschool Learning