Open Play  babies, toddlers,  preschoolers | Westchase Area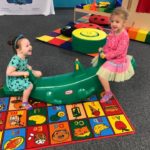 Open Play  babies, toddlers,  preschoolers | Westchase Area
Come enjoy time with your family and friends.  Indoor open play offers adults relaxed opportunity to connect, play and celebrate time together with their kids!  It also provides time to socialize and make new friends!  Schedule a meet up with your friends and catch up on time together!  We add extra activities for your enjoyment!  Welcome!
K Peas Place is located off Racetrack Rd. just minutes from Clearwater, Dunedin, Eastlake, Palm Harbor, Tarpon Springs, Keystone, Odessa, Carrollwood, Land O Lakes and Trinity!  Perfect place to be as you look for fun things to do with your young families!  Older siblings always welcome! Check out our craft area and leave us your handprints!
Details:
What to expect:
Walk on in- sign in at front desk.
Take your shoes off- grown ups wear socks!
NEW?  First time?  fill out our information sheet. ask questions.  select payment option.
Questions & Cost:
$15 per family
6 visits/$75 inquire within for our monthly unlimited offers including the whole family.  We are often asked if both Mom and Dad may come, the answer is always "of course all are included in the fee as well as Grandparents!"  We are a family focused play place.
Cousins/ neighbors pay as an individual family. (we offer group rates, inquire within)
Time frame: Most families spend 1.5-2 hours with us in open ended play and love our classes for only $5 more or less depending on the package selected. We strive on offering you flexible affordable family enrichment.  Open Play sessions run daily, you may join us anytime. see Schedule
Relax engage with your little ones.  Observe them, watch them gain independence and socialize on their own while you can see them from every angle. Growing families relax while attending to their infants, while their older toddlers explore freely and safely in sight.
Bring your lunch (call in GoEats/ uber) Snacks- outside food is always welcome to be enjoyed in our eating area.  Highchairs? Yes.
Bring the whole family- Great Grandma too!! Equipment is designed for kids ages 0-6 yrs. We see older siblings enjoying the simplicity of being a child playing along or enjoying time crafting in our crafting area as well!
Changing Tables? Yes. (2) one in each bathroom.
Remember your socks!  Adults too.
Otherwise, $2 a pair.
Snacks are welcome to be enjoyed in our eating area! Coffee is complimentary, snacks & beverages available $1 each.
Class Schedule & Options: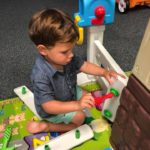 GOOGLE review:
"Today I took my 4 year old, my 1.5 year old, and my 99 year old aunt to play at K Peas Place. It's the perfect place for the kids to play and for my aunt to sit and not feel isolated from the play area. She was able to interact and play with the kids, in air conditioning, with crafts and toys. We had a great time! There is everything you could need from snacks to coffee to clean nearby restrooms. From 0-99, it works for us!"
Open Play  babies, toddlers,  preschoolers | Westchase Area