Indoor Birthday Parties | Westchase
Perfect Birthday Party Venue for children to play, grown ups gather enjoying conversation. We make is easy PEASy! Parties are always private!
WIN a FREE Party!
During September-FUNDRAISER! 
Raising awareness for Pediatric Cancer Awareness Month- Go GOLD!
Enter to win a free party to be booked/celebrated between the dates Oct. 2019-Dec. 2020.Purchase tickets:
1/$20

3/$30

One winner will be drawn on Oct. 1st, 2019.
Purchase tickets at K Peas Place or online through PayPal!
Contact us at: kpeasplace@gmail.com
Purchase benefits: Paul's Project under the 1 Voice Foundation. Checks payable to: 1 Voice Foundation.  https://www.facebook.com/YellowBagsOfSunshine/
Thank you!
Each day our mission is to connect~play~celebrate early childhood with you!
Open Play Schedule:
Class Schedule:
Facebook:
https://www.facebook.com/kpeasplace/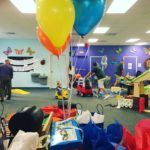 Indoor Birthday Parties | Westchase