Weekend Things to do with your babies, toddlers and preschoolers!
 Music & Open Play for Babies, toddlers and preschoolers!
Join us on select weekends as we add things to do with your babies, toddlers and preschoolers!
Saturday October 20th: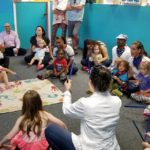 10:00-10:45 ~ Music Class  ~ We continue Halloween FUN with our not so spooky Music with Mar. Class w/ Miss Karen activities~ https://www.facebook.com/events/500836247057437/                                                                                                                                                                                                                              Join us for a fun morning learning through our interactive family music class; $12 per family or use your prepaid, no registration necessary.
10:45-12:00 ~  Open Play ~ Enjoy a relaxing morning connecting, playing, and celebrating time with your family & friends!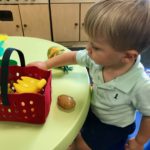 Open Play Time is FUNdamental:
Through unstructured playful opportunities children learn & develop:
Socializing & Language skills~ how to get along with others, turn taking, cooperation, and problem solving!
Mathematics skills~ Geometry,  gravity,  & balance and when stacking blocks and knocking them over!
Fine & Gross Muscle skills~ using their whole bodies in self direction activities as ride on toys, climbing stairs, drawing using their curiosity to try new things, becoming creative thinkers!
Self Esteem~ I did it!
Self- Direction or "free play" known as unstructured OPEN PLAY here at K Peas Place provides some of the best learning experience offered to children. Enjoy time together as you and your child connect~ play~ and celebrate early childhood together! Welcome!
Admission: Open Play Only~ $15 per immediate family members/ use your prepaid or unlimited packages!
Older siblings always welcome! Equipment is designed for 6 and under. Thank you!
Combo pricing: $20 per family for music class & play!
Facebook event:
https://www.facebook.com/events/299023454158186/
Weekly Schedule
No registration necessary, pay as you go, or purchase return passes/ or monthly unlimited!
Weekends
Weekend Classes and Open Play are added as time permits.  If you are interested in renting our venue to host a birthday party, baby shower, special event please contact us via email
kpeasplace@gmail.com  Please, include the day and time of your request.
Remember your socks- grown ups too! If you forget we sell them, $2 each supporting our charity Paul's Project under the 1 Voice Foundation. Thank you!
Weekend Things to do with your babies, toddlers and preschoolers!