Summer Indoor Sports Stations for Pre-K- 2nd Grade Westchase
Introducing:
NZone Sports w/ Miss Tonya & Music with Mar.- Family Music Fitness  w/ Miss Karen
Great news! Summer Indoor Sports Sampler – Westchase:
Join Miss Tonya, NZone sports, introduction to various sports/activities!
Miss Tonya, joined Hillsborough County Public School System in 2001 as a Special Education teacher. In those 17 years, she has had the opportunity to work with many colleagues, students, parents and families as an Exceptional Student Educational Specialist, General Educational Teacher, and Behavioral Specialist.  We all have said the same thing…"more time is needed to teach character skills then the school day allows!"  Therefore, she have recently expanded her outreach to be able to reach more students and families to assist teaching these skills.  It truly does take a village to help develop the whole child.  And that is ok 😊! Being a mother of five beautiful kids and an educator of many, she now realizes how important their early years are when it comes to social development.  Proper social development leads to outstanding citizenship and academics. She was fortunate to have been able to be a volunteer coach for NZone Sports before being a business owner.  Miss Tonya has witnessed the importance and relevance of staying true to the beliefs and goals where we focus more on the kids social and emotional development than the sports.
Learning the sport is an extra bonus.
Specialized and Trained in:
* Functional Behavior Assessments
* Individualized Educational Plans (IEPs)
* Behavior Modification
* Response to Intervention (MTSS/RTi)
* Teacher/Parent Behavior Coaching
Ideal for kids ages 3 – 7 yr (older and younger siblings welcome)
Your sweet pea (s) will have to opportunity to enhance their social and emotional development while they explore the world of sports.
Date: Wednesdays JUNE & JULY
Time: 3:30pm – 4:oopm
Cost: $15 for Sports Stations per family.
Combo- including early open play & Music $20 per family
Purchase: Discount return package: $100 for June and July
Come early to play before activities begin! Daily Wednesday open play hours 12:30-3 :30p.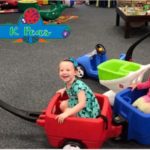 Great way to bond with your child while enjoying a cool, fun, safe and positive environment!
Wednesday Afternoon FUN for the whole family:
Stay & enjoy a Music Family Fitness Class w/ Miss Karen at 4:00p-4:40p
(reg., rate $12 per family)  or use class packages. Bring a water bottle.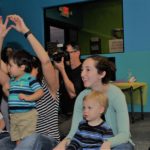 Summer Indoor Sports Stations for Pre-K – 2nd Grade Westchase