Saturday Halloween Music Class ages birth-5 years
Saturday Halloween Music Class ages birth -5 years
Date: Oct. 28th
Time: 10:00-10:45
Details:
Kids wear Halloween costumes
Bring treats to share
Bring a bag to collect treats
Enjoy Halloween music activities with your family!
Cost:
$12 per family
or use your music class cards 5 classes/$50.
Location:
13970 Lynmar Blvd.
Tampa, Fl 33626
(next door to K Peas Place)
Additional Halloween Music Classes on Schedule around
Tampa Bay!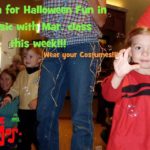 Thursday Oct. 26th
10:00
750 San Salvador Drive, Dunedin Fl 34698
Friday Oct. 27th
10:00 and 11:00
13970 Lynmar Blvd. Westchase
Monday Oct. 30th
9:30
207 Buckinngham Ave. Oldsmar
Tuesday Oct. 31st
4:00
13966 Lynmar Blvd.
Wednesday Nov. 1st
3:00
13966 Lynmar Blvd. Tampa 33626
https://www.facebook.com/musicwithmarclasseswithmisskaren/
What is Music with Mar. Classes w/ Miss Karen?
Music with Mar. is a fun, interactive music class where children, ages 0 – 5 and their caregivers participate together in musical activities that enhance child development.
Join our family friendly classes all year round.
Saturday Halloween Music Class ages birth-5 years