Join us for extended Open Play. Open Play is very popular and we have been getting may requests to have more Open Play in the evening. If you have not been to Open Play, it is a wonderful way to engage your kids in spontaneous fun. Plenty of things to explore together in Open Play. Take a look at our Open Play web page for more information.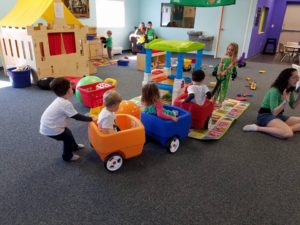 5:00-7:00- July 27th Only

Cost: $15 open play per family; or use your unlimited pass or punch cards.
ONE day only! LOVE it- let us know = we'll do it again!
Thank you to all the "daytime" working families requesting OPEN play!
Bring dinner and let's play!
Late Afternoon Options
If you can get out of the office or rearrange some of your schedule, we have wonderful activities to explore in the late afternoon.
Come to Music with Mar. Classes w/ Miss Karen at 4:00pm.

Join us for open play  BEFORE Music class.
** (Music starts at 4:00p) open play $5; music $12 per family or use your MwM class pass.
Why Come To K Peas Place?
Play is essential to a child's personal growth and well being. Through play, children explore new activities, learn to communicate with other kids, and develop the vital parts of the human spirit that leads to a vibrant and joyful life. K Peas Place is a safe and comfortable place for kids to grow and learn and be their joyful selves.
Your kids will love it
Lots of fun activities
Educated caring staff
Large indoor space
Escape heat and humidity
Thursday Extended Evening Open Play July 27th Only